Understanding Invisalign® Clear Aligners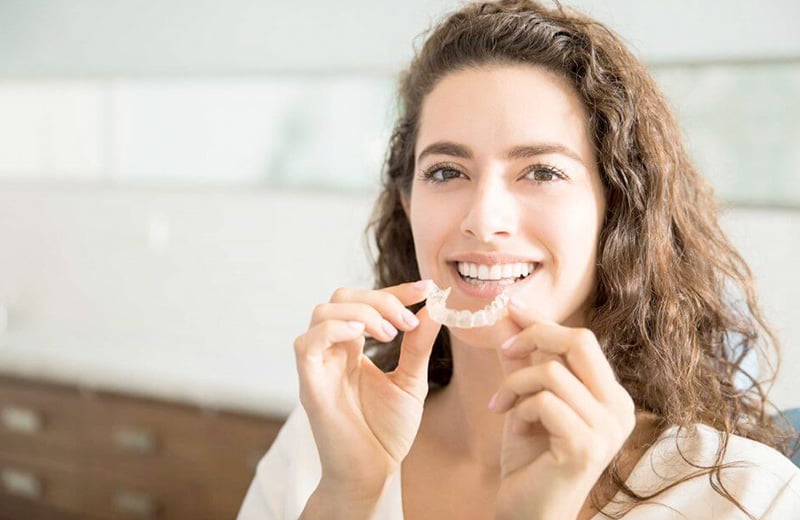 Invisalign® is a great and discreet way to get the smile of your dreams, but how does it work?
South Bend, IN – If you are looking to improve the appearance and function of your smile but aren't keen on the thought of traditional bracket and wire braces, Invisalign® may be a great option for you. The system uses clear aligners to efficiently guide your teeth to their ideal locations.
The custom created clear aligners fit comfortably over your teeth. Through a series of these aligners, you'll end up with a beautiful smile and properly functioning bite. But how?
Your treatment begins by having computer generated images of your mouth taken. These high-res images are used to craft your treatment plan and create your series of aligners. Every patient who receives Invisalign® treatment receives highly personalized care, with each treatment plan and aligner set designed especially for them.
The 3D images taken by your orthodontist are used to help the orthodontist understand what your smile looks like today, but also to map out how your teeth will move throughout every phase of treatment until they reach their final positions. That means that you'll be able to see an image of your completed smile before your treatment has even begun.
Every aligner is made from BPA-free plastic and designed to be smooth, comfortable and almost completely invisible. The aligners fit directly over the teeth. Each set is worn for 22 hours a day for 10-14 days before moving on to the next set in your series. Adhering to the wear schedule as outlined by your orthodontist is important to ensure your treatment stays on track and your end result is what was planned for.
Each set of aligners is perfectly calibrated to achieve a certain movement. If you move from one to the next before the desired movement was achieved, it can alter your treatment and end result. The high-tech thermoplastic of the aligners is designed to control the force used on the teeth, as well as the timing of this force, so that your teeth move at the right time to achieve the ideal bite.
Invisalign® is the most aesthetically pleasing treatment option available today, but there are some important things to remember when choosing it as your treatment option.
Every patient may not be an ideal candidate for Invisalign®. Invisalign® has come a long way since it was first introduced and can treat many more cases than it used to, but it still may not be ideal for people with more complex malocclusions. Your orthodontist will determine if your orthodontic issue can successfully be treated with Invisalign®.
The aligners are removable, but they must be worn the minimum amount of time recommended by your orthodontist or you may not achieve the result you hope for. They should only be removed when eating, drinking, brushing and flossing.
The aligners must always be removed when eating or drinking anything other than plain water. Chewing with your aligners in can damage them and can trap bacteria between the aligner and the gumline. Drinking dark liquids can stain the aligners, and hot beverages can cause the plastic to warp, altering the fit.
You must clean your aligners and your teeth regularly. We recommend always brushing after eating and before placing the aligners back in your mouth, even if it's just a snack. This ensures any left-over food debris won't get trapped between the aligner and the teeth/gums. Clean your aligners regularly to avoid plaque build-up and smells.
If you are interested in learning more about Invisalign® treatment and if you may be a candidate for it, call Harrington Orthodontics today at 574-233-7444 (South Bend) or 269-428-2828 (St. Joseph).