Take Care of Your Braces While Out and About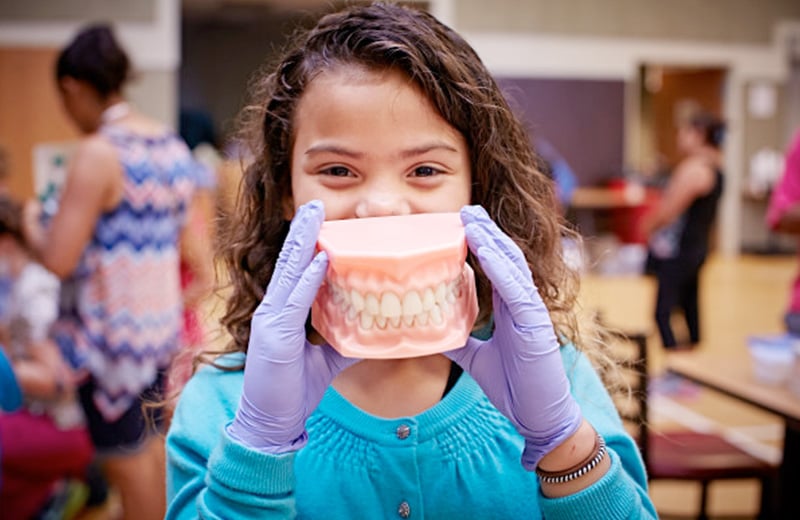 How do you care for your braces while at school, work, or travelling? Follow these tips from Harrington Orthodontics.
St Joseph, MI – Taking proper care of your braces while at home is a breeze. Everything you need is readily available, and you can take the time to brush and floss properly. But when your schedule fills up or you start travelling, taking proper care of your braces gets trickier. Harrington Orthodontics offers some tips to keep your teeth healthy, even while busy.
Always be prepared.
We recommend creating an on-the-go braces care kit to keep with you in your school bag, purse, car or suitcase. Pack the essentials – a travel toothbrush and toothpaste, floss, orthodontic wax, carrying case (for those wearing Invisalign or retainers), and some over-the-counter pain medication.
You should brush your teeth after every meal, especially while in braces, so a travel toothbrush and toothpaste will become your best friend. Use your time wisely and always plan to leave some time after snacks and meals to be able to brush. This will ensure you've removed food debris from your brackets and wires or that you've brushed away anything that could get trapped under your aligners. Taking the time to do this ensures your teeth stay clean and healthy throughout your time in treatment.
If you have bracket and wire braces, packing orthodontic wax will be important. There will be times when the brackets or wires may rub the inside of your mouth, but orthodontic wax can relieve help prevent this before discomfort happens.
Over-the-counter medication is always a good idea to have on hand. Your teeth are moving to new locations, which doesn't happen without a bit of discomfort or soreness.
Follow your orthodontist's recommendations.
It's also important to understand all of the dos and don'ts of your treatment. If you have braces, make sure you understand what foods you should avoid while in treatment. This is important because some foods, especially those that are too hard, sticky, crunchy or chewy, can damage your brackets and wires.
If you use Invisalign, understand how often you are supposed to wear your aligners and when you are to switch to a new series of aligners, as well as remember to remove them when eating and drinking.
Be ready for an emergency.
Minor braces emergencies can happen at any time. Brackets can fall off, a wire can come loose, or a ligature tie can fall off. If you know ahead of time how to handle it, you can be prepared until you can get in to see your orthodontist.
Harrington Orthodontics is here to help you every step of the way during your orthodontic journey. We are always available to answer questions or address concerns,  574-233-7444 (South Bend) or 269-428-2828 (St. Joseph).